Whitescarver & Associates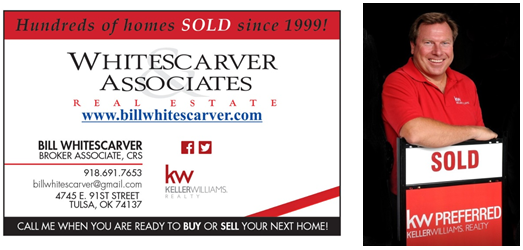 Are you in the market to buy or sell a home in the greater Tulsa area?

What best describes your next move: luxury, relocation, marriage, divorce, probate, investment, short sale or first time home buyer?

Visit: www.zillow.com/profile/Whitescarver-Assoc/#reviews and see what our past clients say about us!

Since 1999, I have helped over 500 clients, buy, sell or invest in residential real estate in the greater Tulsa area. In 2001 I received by broker license. I was placed in the top 4% of realtors in North America in 2010 when I earned my credential as a Certified Residential Specialist.

We have multiple resources that help serve our clients which include the management and staff at Keller Williams Preferred, and our team of professionals which includes our lenders, closer, insurance and inspection companies, attorneys, craftsmen, and property managers that can help guide each transaction from contract to successful close.

Bill Whitescarver
Team Leader
billwhitescarver@gmail.com
918.691.7653

I started helping clients in the greater Tulsa area in December of 1999 and received my Broker's license 24 months later. Over the years I have failed my way to success in Real Estate while working independently or with a staff, team members, and virtual assistant. I have earned numerous awards for volume, production, listings taken and closed units. Through continuing education, over $80 million in production, and over 500 successful transactions, I received my Council of Residential Realtors (CRS) in 2001, a certification only 4% of REALTORS in the United States earn and considered the "doctorate" of Real Estate. I continue to be a top producing REALTOR in the Greater Tulsa area year after year. My greatest rewards are the people I have had the pleasure of working with and the many kind words and testimonials from the hundreds of past clients I have served. Keller Williams is a REALTOR/Agent driven firm and I embrace the culture, environment and core values of this company.

I was born in Lafayette, LA and called Houma, LA home for the first eight years of my life. For the next 25 years, I lived in California and in 1987 graduated from USC with a degree in business and entrepreneurship. I was successfully self-employed for 13 years prior to my family moving to Tulsa in 1997 and starting my Real Estate career. When I am not selling real estate, my other passions include cycling, playing racquetball, snow skiing, spending time with his family or friends, hiking Turkey Mountain with his two black labs, Cabbo & Champ or planning my next adventure with Suzanne. My family is active at Life Church, my daughter is a student at Oklahoma State University and my son just graduated from Jenks High School and is taking classes at Tulsa Community College.